This article has been updated as of November 2, 2020
Update 11/2/20 – According to the IRS, anyone who does not usually file a tax return, or did not file a tax return in 2018 or 2019, might not know if they qualify for an economic impact payment. Nearly nine million people that fall into this category will receive a letter from the IRS with information on how to register on their website to claim their payment, which has a deadline of November 21, 2020. The letter is legitimate. Anyone who receives one should either call the IRS directly at 800.919.9835 to register, or visit IRS.gov/EIP.  
However, if anyone receives a phone call, text message or email from someone claiming to be the IRS and wants to help you receive your stimulus payment, hang up, do not respond, and do not click on any links or attachments. The IRS will not text, email or call about an economic impact payment. They will also never ask anyone to pay a fee to get their money.
The IRS and it's partners will do a final push on November 10, National EIP Registration Day, to reach out to people who do not normally file their taxes. To learn more about stimulus payments, visit the IRS website.  
This article was originally posted, April 14, 2020
The Treasury Department and the IRS continue towards getting consumers their stimulus checks due to the COVID-19 pandemic. With the distribution of stimulus checks underway, non-filers are now able to get their stimulus payments sooner thanks in part to an online tool that was created to help consumers that aren't required to file tax returns. However, it is important non-filers know the proper steps to take to protect their personal data and information so they don't fall for a stimulus check scam.
First, non-filers should go directly to the IRS website, IRS.gov. Always start at the most trusted source.
Second, non-filers should click the tab that says "Non-Filers: Enter Payment Info Here." If consumers do not see this tab on the front page, they are not on the right page.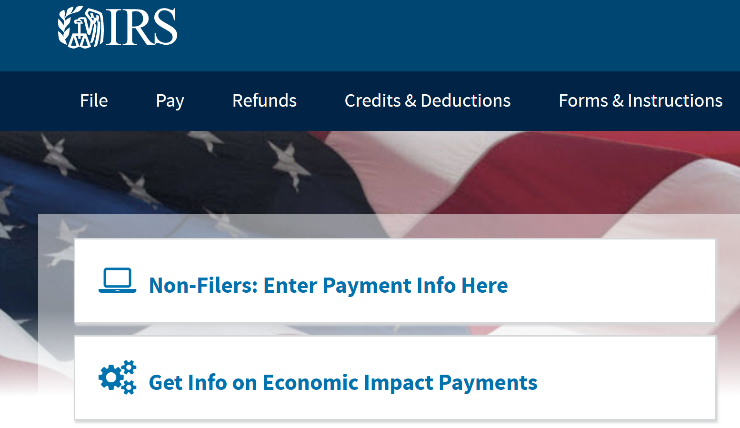 Consumers should proceed to click on the "Non-Filers" tab. Once they click on the tab, it should take them to a page that has information on the "Economic Impact Payment" and additional information on what consumers need to provide and what they should expect. The next step is to, once again, click on the tab titled "Non-Filers: Enter Payment Info Here" that can be found in the middle of the page.
Once the tab is clicked on, visitors will be redirected to freefilefillableforms.com. The redirect could feel like a scam. However, if the homepage looks like the one below, consumers are at the right place. (The ITRC has verified that this is a valid redirect)
From there all people have to do is hit "Get Started" to begin. Once a profile is created, non-filers will be asked for personal information like their Social Security number, address, dependents and direct deposit information. In this case, it is okay for consumers to provide sensitive information.
However, if anyone receives emails, text messages or phone calls about non-filers filing for a stimulus check, they should ignore it because it is probably a stimulus check scam. People should be going directly to the source, in this case, the IRS, to complete the process.
Since the stimulus package was merely a thought, scammers have increased their efforts around stimulus check scams. It is important for people to never give out personal information over the phone or to anyone they do not know personally. Also, it is important to know the facts. The IRS will not call anyone.
If people have questions regarding non-filers or stimulus check scams, they can live chat with an expert ITRC advisor. For those that cannot access the website, they can call the toll-free hotline (888.400.5530) and leave a message for an advisor. While the advisors are working remotely, there may be a delay in responding but someone will assist you as quickly as possible.
---
Read more of our latest educational information below
COVID-19 Pandemic Leads to Unemployment Benefits Identity Theft
IRS Stimulus Check Scams Ramp Up
https://www.idtheftcenter.org/wp-content/uploads/2020/04/ITRC_SS_IRS-Non-filer-stimulus-check-scam_1060850357.jpg
667
1000
Alex Hamilton
https://www.idtheftcenter.org/wp-content/uploads/2018/06/32smWideLogo_edited-1-300x71.png
Alex Hamilton
2020-11-02 14:12:00
2020-11-02 14:12:39
Are you an IRS Non-Filer? Tips to Avoid a Stimulus Check Identity Scam