Mystery shopping has been around for a long time. Mystery shoppers help businesses, retailers and restaurants get information on the quality of their stores in exchange for money. In the past, scammers have found ways to turn the service into a mystery shopper scam, also known as a secret shopper scam. These scams are resurfacing during the coronavirus due to over 45 million people filing for unemployment and looking for some extra cash.
There are different forms of mystery shopper scams. One popular version of the scam is when scammers pose as retailers looking to lure people into being secret shoppers. They ask victims to pay for their products or training and then take off with their money. Fraudsters will also steal a victim's personally identifiable information (PII) from the application they filled out and commit identity theft.
Another version of the mystery shopper scam includes fake checks. In this scam, the victim signs up to become a secret shopper through an online form – potentially giving away sensitive PII like Social Security numbers, date of birth and address. Then the victim is sent a check in the mail to use to secretly shop at a store. Once the check is posted to their bank account, the victim begins to shop as instructed. In some instances, the victim is told to buy reloadable cards and send pictures of them and their PIN card numbers from the back. Once the bank finds out the check is fake, the victim is on the hook for all of the money that they spent plus bank fees. This particular version of the scam lures victims in with a fake check, like the one pictured below that was sent to the Identity Theft Resource Center (ITRC) from a mystery shopper scam victim: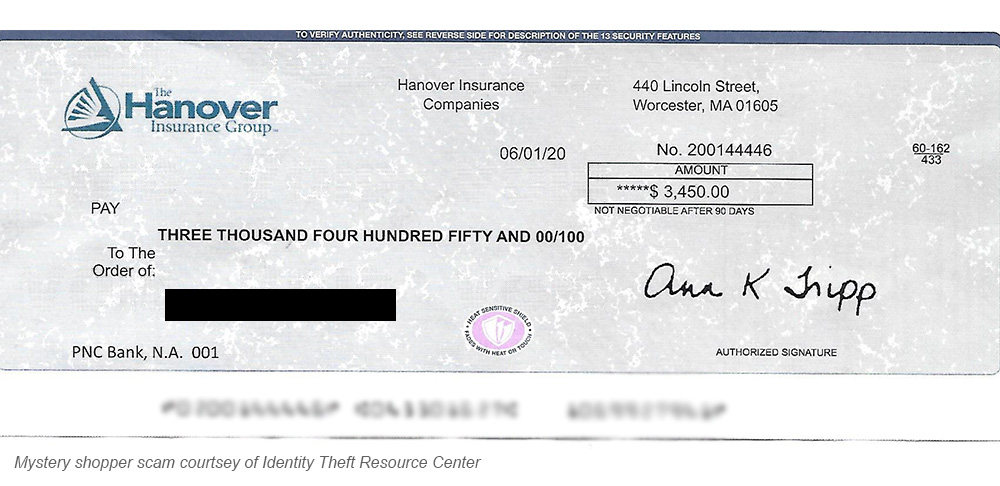 At first glance the check appears to be legitimate. However, while the check says it is to PNC bank, the routing number is for HSBC. Hanover Insurance Company also has a notice on their website about fraudulent checks.
The ITRC was also sent this letter that went along with the check:
While the letter also seems legitimate at first glance, the company listed is Assign Retailer Metrics Inc. instead of Hanover Insurance Company. The letter also asks people to take pictures of the card numbers and scratched PIN numbers and email them to a Gmail account instead of a company account. These are just a few signs that prove this is a secret shopper scam.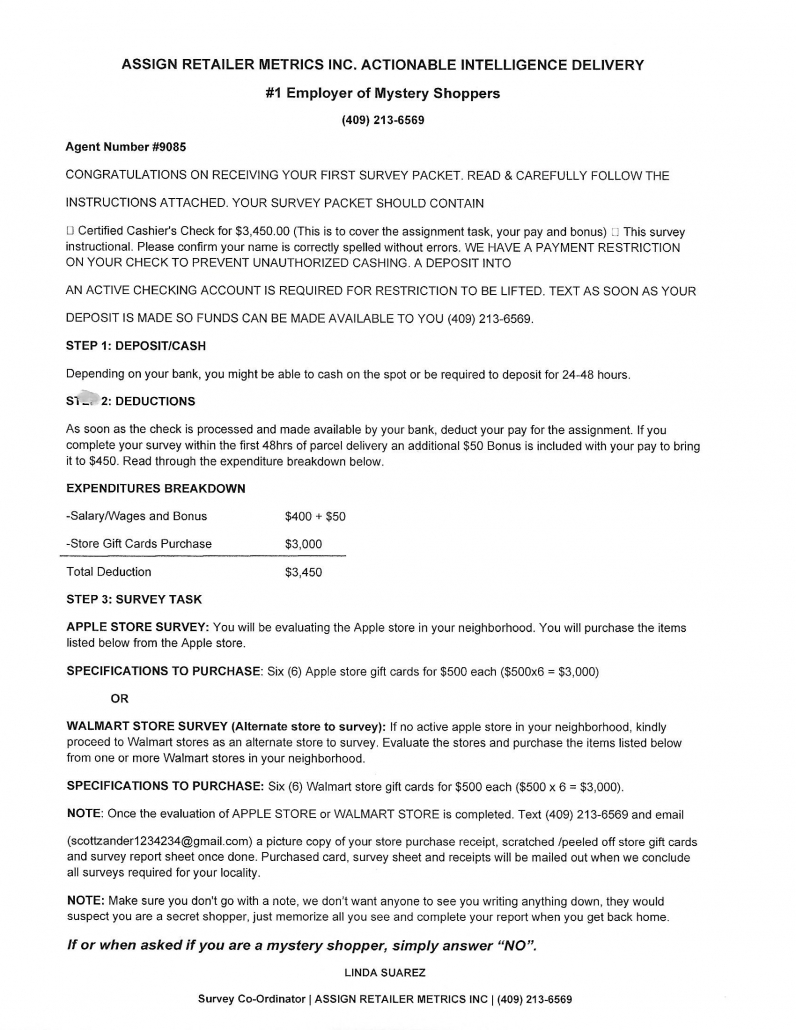 Mystery shoppers can be very effective for retailers because the secret shopper can buy whatever the retailer wants them to buy and then report back their experience. However, it can leave consumers looking for a way to make a little extra money in the difficult economy vulnerable to being taken advantage of by ne'er-do-wells. There are things people can do to reduce their risk of falling for a mystery shopper scam.
To avoid these types of scams, people should:
Never pay to be a mystery shopper – don't wire money or send a "deposit" via PayPal, Venmo, or Zelle
Do NOT give out PII on an application
Be wary if offered a lot of money for a simple task
Cash the check at an issuing bank or wait until the money has not just posted but cleared the other account; if the check is not good, the victim can return the cash into their account
There are also things people can do to spot a legitimate mystery shopping opportunity. People should:
Do their research on legitimate opportunities; search the internet for reviews and comments on mystery shopping jobs
Remember they are paid to be a mystery shopper (typically after the task is completed); they do not have to pay to do it
Anyone who believes they are a victim of a mystery shopper scam can live-chat with an ITRC expert advisor or call toll-free at 888.400.5530. Advisors will guide victims on the next steps they need to take.
---
You might also like…
Identity Theft Resource Center Announces Change to Board of Directors
Google Alert Scam Sends Fake Data Breach Notifications Embedded With Malware
Hackers Take Advantage of COVID-19 Closures to Launch Claire's Data Breach
https://www.idtheftcenter.org/wp-content/uploads/2020/06/ITRC_SS_mysteryshopper_506504650-scaled.jpg
1707
2560
Alex Hamilton
https://www.idtheftcenter.org/wp-content/uploads/2018/06/32smWideLogo_edited-1-300x71.png
Alex Hamilton
2020-06-23 15:14:36
2020-06-23 15:28:31
Mystery Shopper Scams Resurface during COVID-19