Individuals are reporting a new Venmo scam that tries to overpay you out of the blue, but why would a scammer want to pay you? There is no limit to the creativity scammers can employ when trying to separate you from your money. Worse, as new technologies and platforms emerge, criminals come up with even more ways to take advantage of you, leaving you scammed on Venmo.
A new Venmo scam that relies on the Venmo peer-to-peer payment app has users and security experts alike scratching their heads, trying to determine how exactly scammers can benefit. Venmo, owned by PayPal, lets you send money instantly from a stored credit card, bank account or pre-loaded Venmo card to anyone with an account. It is a great way to pay your friend for your part of the rent, takeout food they brought over or concert tickets they bought to ensure the seats are located together.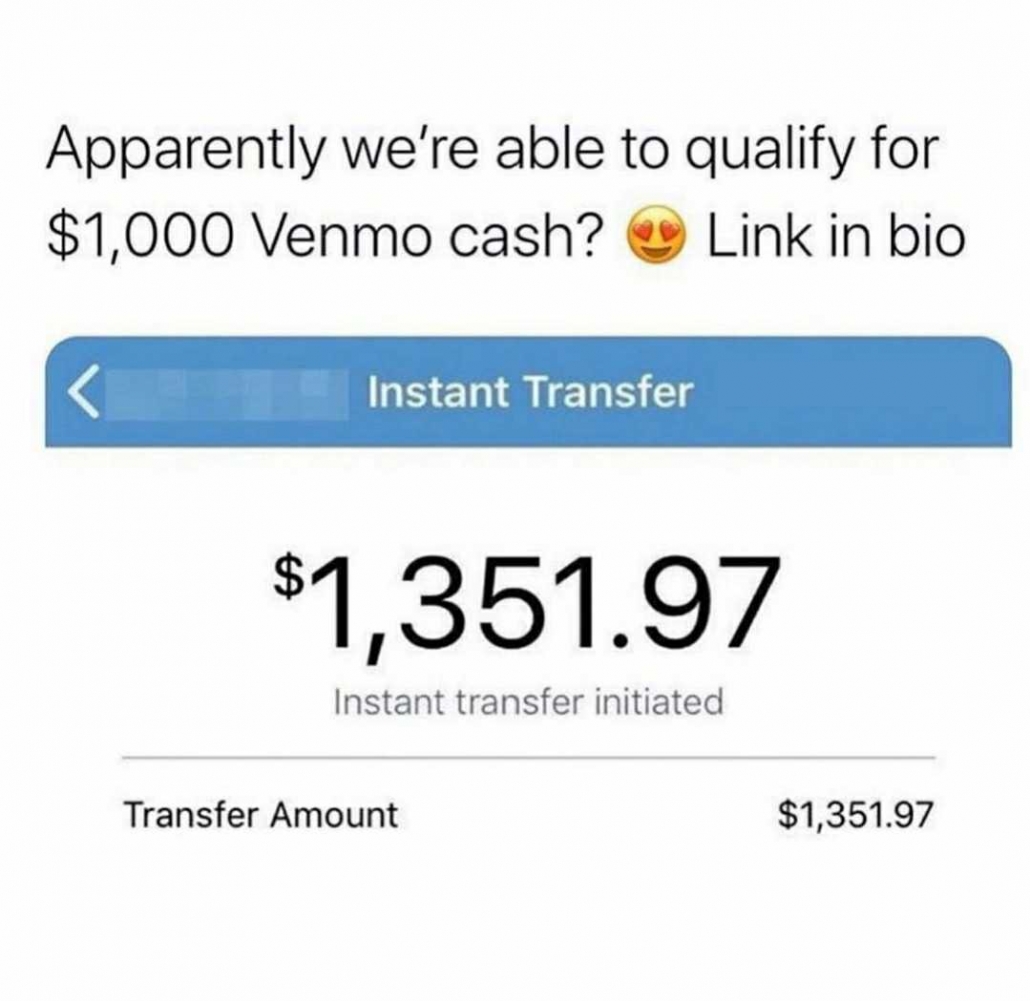 What do you do if a stranger on Venmo sends you a suspiciously large amount of money? Some potential victims from the Venmo scam have received as much as $1,000 from someone they do not know, only to receive a strange message: "Sent to you by mistake, please return the money."
It is already starting to sound fishy.
A lot of people have confused this Venmo scam with a fake check scam. In a fake check scam, someone sends you a check. You cash it, then you either return a portion according to their directions or make a purchase on their behalf, like buying them gift cards or sending them electronics. Once the bank finds out the check was fake, that money actually came out of your bank account.
In this Venmo scam, the best guess is that the scammer is only using you, and you do not actually come to any personal harm at first. The scammer uses a stolen credit card number to send you money and says, "Oops! Can you send that back?" You see the money sitting in your account and you do not know that this person is a criminal. So, you do it, leading to you getting scammed on Venmo.
Most likely, the scammer withdraws the money to their Venmo card instead of back on the original credit card. They might also delete the stolen credit card from their account and submit their own card in its place so that the money you are sending them goes to their personal card.
First, you might wonder how anyone could make such a ridiculous mistake as to send you $1,000. Sadly, it happens. With Venmo, you do not have to have any kind of approval to look up someone's name and try to send them money. However, that is exactly what the scammers are counting on.
Second, you might be tempted to think, "It is not affecting me in any way, so I do not mind sending it back to them." That can be a dangerous tactic, though. It is unclear whether or not this scam is actually impacting the recipient of the money, but more importantly, you would now be taking part in money laundering of stolen funds.
Third, there is that little voice that might be telling you, "You do not have to send this money back! After all, you would be stealing from a scammer. They deserve it!" Not exactly. Remember, the money still came from someone's stolen credit card, and that person is a victim. When the victim discovers the charge on their card and sees that it is a Venmo transaction, the company may be more than happy to tell them which Venmo user it went to. In this case, that would be you.
Some users affected by this Venmo scam have reported that they tried to contact Venmo and the results were not very reassuring; they were simply told, "Sure, refund the money." After all, accidents do legitimately happen.
If you are concerned about how this Venmo scam could affect you, reach out to law enforcement for support. Some forum users have stated they returned the money only after waiting for a reasonable amount of time, but again, that advice is more for avoiding a fake check scam. If you believe you were scammed on Venmo, you can also contact Venmo and discuss suspending your account once you return the money so that no further transactions can go through from that sender.
Contact the Identity Theft Resource Center for toll-free, no-cost assistance at 888.400.5530. For on-the-go assistance, check out the free ID Theft Help App from ITRC.
This post was originally published on 11/4/19 and was updated on 7/14/21
---
You might also like…
Venmo Scam Targets Payment App Users
Millions Of Venmo Payments Accessed Publicly
https://www.idtheftcenter.org/wp-content/uploads/2019/11/ITRC_SS_Venmo_shutterstock_1109551547-1.jpg
667
1000
Alex Hamilton
https://www.idtheftcenter.org/wp-content/uploads/2018/06/32smWideLogo_edited-1-300x71.png
Alex Hamilton
2021-07-14 08:28:00
2021-09-22 16:22:15
New Venmo Scam Is Trying to Give You Money, Not Take It Away