* Last updated June 22, 2021
Savvy online shoppers look forward to the charitable Christmas in June, Amazon Prime Day, but scammers look forward to this event, too. Amazon scams account for a significant percentage of internet retail fraud, making it important that consumers know what to look for. Armed with the ability to spot an Amazon scam, you can work to avoid them while still saving big during online shopping.
Last year during Amazon Prime Day, Checkpoint noted that 20 percent of domains registered containing the words "Amazon" and "Prime" were malicious. However, this year, almost half of the domains were seen as malicious with new related domains being 32 percent malicious sites.
Amazon scams are so prevalent simply because they tend to work. With the sheer number of Amazon and Amazon Prime customers using the website, there is a good chance that any phishing attempt hiding behind the Amazon name and logo will find its way to a customer. There is no single type of Amazon scam, but they can take on so many different forms that it can be hard to tell what is real and what is a trap.
Many online shoppers are about to embark on a two-day shopping spree full of great deals for Amazon Prime Day. However, good deals could also mean lots of scammers. This Amazon Prime Day, make sure you know how to protect yourself from these scams:
Phishing Scams
There are several different phishing scams involving Amazon, especially on Amazon Prime Day, and other retailers. However, some of the more common ones include:
"There is a problem with your account. Please click here to verify your account or change your password."

"Here is your receipt and shipping confirmation" for a product you never ordered.

"Please verify your payment method."
The goal is always to get you to click an included link then enter your sensitive account information for the scammers. The link may even install a virus or other harmful software on your computer.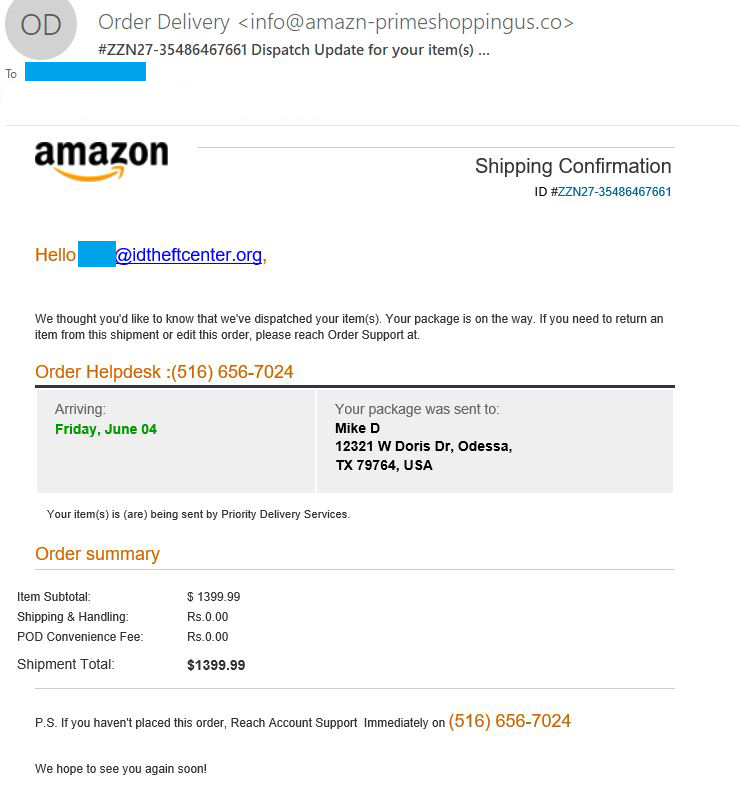 Discount and Coupon Scams
Amazon is not the only retailer whose name and logo are used for fake coupons and discounts. This tactic offers phony discounts of up to $100 to use on the website in exchange for filling out an online form. The coupon is not real, and the scammers have just stolen all of the information you supplied to them. These can often be seen making the rounds on social media sites like Facebook and in consumers' email inboxes.
Review Scams
After a big shopping event like Black Friday or Amazon Prime Day, you might suddenly be inundated with requests for product reviews, whether you bought anything or not. Some of these offers will even sweeten the deal with promises of cash in exchange for your review. Paying someone for a review is a clear violation of Amazon's terms and conditions and can lead to problems with your account. More importantly, these offers are not real. The scammer may steal your personal information, launch a spam email campaign, install malicious software on your computer or worse.
Amazon Prime Day can also lead to account takeovers. It is important to monitor your debit card and credit card accounts for any suspicious activity, and report anything unusual to your financial institution or the retailer immediately.
Contact the Identity Theft Resource Center for toll-free, no-cost assistance at 888.400.5530. For on-the-go assistance, check out the free ID Theft Help App from ITRC.
---
You might also like…
Things to Consider When Using VPN
https://www.idtheftcenter.org/wp-content/uploads/2021/06/Amazon-Order-Delivery-Email-Scam-ITRC060121.jpg
786
740
Alex Hamilton
https://www.idtheftcenter.org/wp-content/uploads/2018/06/32smWideLogo_edited-1-300x71.png
Alex Hamilton
2019-07-11 12:28:00
2021-06-22 15:49:54
Scored on Amazon Prime Day? Watch Now for Scams