Phishing scams are a low effort way for scammers to trick consumers into revealing personal information. Communication from payment platforms can be convincing with a Stripe email now making the rounds.
Phishing scams have been around for years, and with the ability to send out millions of phony emails a day, scammers don't have much legwork to do. All they have to do is send a plausible email, get you to click the link or follow the instructions, and their work is done. One widespread form of attack involves pretending to be a high-profile company like Amazon, PayPal, or your bank in order to trick you into following their instruction and landing in their trap.
The latest front for this type of phishing attack is mobile payment company Stripe. Many small business owners, charities, and everyday consumers rely on Stripe for processing everything from payments to donations to cash from friends or relatives. The "Stripe" email claims that your account has been compromised and any money you are expecting will not be transferred to you, scammers hope to lure you into clicking and entering your info.
See real example sent to an ITRC employee: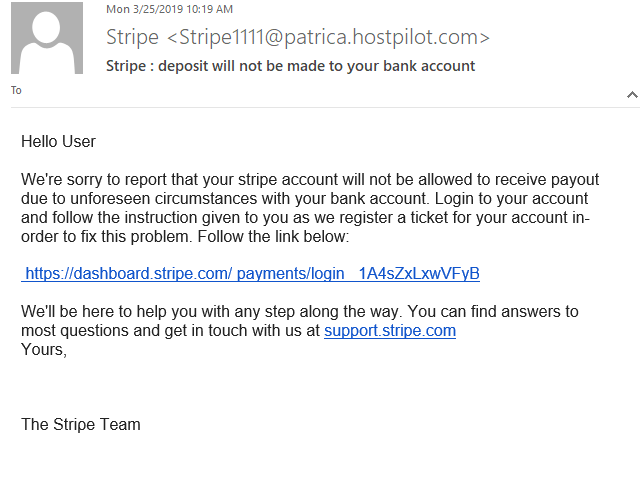 An email typically with a subject line, "Stripe: deposit will not be made to your bank account," has been circulating and frightening the site's users, so much so that the company issued a scam watch statement. This post tells users what to do if they receive a strange communication that appears to come from the company. For instance, misspellings in the message or uncapitalized use of the company name are some red flags, as is an unknown email address or one that does not include the "stripe.com" domain name. Other telltale signs are listed in the website's post.
There are some steps that tech users can follow to protect themselves from this kind of low-tech crime.
Never click a link, open an attachment, or download a file in an email or message unless you were specifically expecting it; even if you think you recognize the sender, it is a good idea to verify it with the sender first.

Next, never submit any kind of sensitive information based on a communication about your account. This includes usernames, passwords, account numbers, or any other details. Instead, go directly to the company's website and log into your account. If there is a problem, it will be visible on the screen.

If all else fails, contact the company directly using a verified phone number or email address.
---
Contact the Identity Theft Resource Center for toll-free, no-cost assistance at (888) 400-5530. For on-the-go assistance, check out the free ID Theft Help App from ITRC.
https://www.idtheftcenter.org/wp-content/uploads/2019/05/ITRC_SS_StripeOnlinePaymentEmailPhishingScam.png
833
1000
Alex Hamilton
https://www.idtheftcenter.org/wp-content/uploads/2018/06/32smWideLogo_edited-1-300x71.png
Alex Hamilton
2019-05-09 09:42:09
2020-06-17 11:48:03
Stripe Email Phishing Scam Making the Rounds