The Benefits and Risks of a Digital Wallet and Mobile Payment App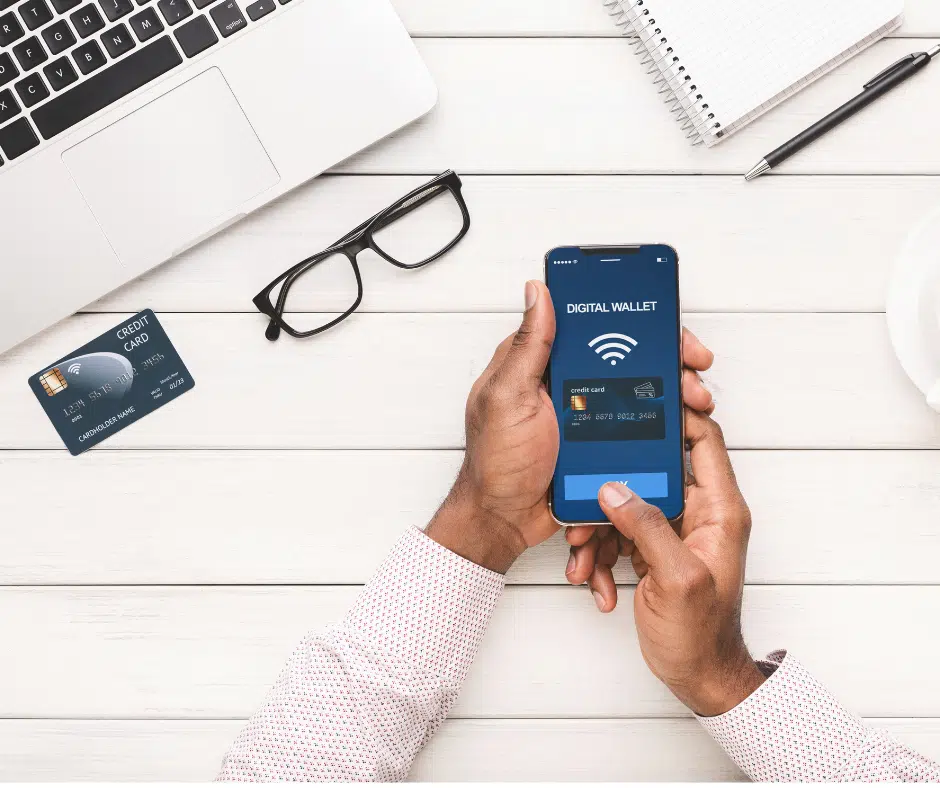 Digital wallets and mobile payment apps continue to grow in popularity. In fact, U.S. users jumped from 38 percent to 55 percent of smartphone owners. A digital wallet allows people to carry much of what they would have in their physical wallet on a mobile device. Payment apps are also surging in popularity. According to an article in Newsday, a recent survey sponsored by SimpleTexting, a Miami Beach provider of text messaging software, shows that 81 percent of those polled use cash apps more often since the COVID-19 pandemic. Digital wallets provide people with more payment options and allow them to convert physical cash to an online account to then link to these services, especially those who are unbanked and underbanked.
Digital Wallet vs. Mobile Payment App
A digital wallet is a virtual version of payment cards and financial accounts that can be accessed on a computer or smart device. Some popular digital wallets include ApplePay, Google Pay, Samsung Pay and PayPal. Mobile payment apps are tied to purchases made at a single business such as Starbucks or Walmart, or an app like Venmo that transfers cash to other people as payment.
The Benefits and Risks of a Digital Wallet and Mobile Payment App
Digital wallets and mobile payment apps allow people to simplify how they make payments and what they have to carry with them to purchase items. Both kinds of apps enable consumers to complete transactions without using cash while protecting financial account information and passwords. Digital wallets use security protocols, like two-factor authentication and one-time-use PIN numbers. They also use advanced encryption and virtualization techniques that ensure people's financial information never leaves their actual device.
However, that does not mean criminals will not target users. Keeping a device secure by using screen locks and device passwords/biometrics is vitally important, along with the ability to remotely disable a smart device if it's lost or stolen. If a thief gains access to someone's digital wallet, they may have the ability to make purchases or steal someone's funds, like one person from Grosse Pointe Farms. There is still the risk of also being tricked into old-fashioned product or service fraud, too. Users of digital wallets and payment apps need to be cautious and only engage in a transaction if it's part of a purchase or fund transfer they initiate.
Digital Wallets and Mobile Payment Apps Help the Unbanked and Underbanked
The FDIC Survey of Household Use of Banking and Financial Services found that in 2019 approximately 7.1 million U.S. households were unbanked, meaning no one in the home had a bank account. The number of unbanked and underbanked people (U.S. residents with limited access to banking services) is on the decline, and the increased use of digital wallets and payment apps is part of the trend.
Digital wallets and mobile payment apps are a great answer and a more secure way of making financial transactions for those who cannot or do not want to access a bank's services. It is safer, there are fewer fees and easier access. Unbanked and underbanked households can make payments, store funds, transfer money to other financial accounts, and even have bill pay (check writing) features depending on the app.
Digital wallets and mobile payment apps can also improve financial inclusion by reducing people's dependency on cash and decreasing risks associated with handling money, such as health concerns, fraud, theft, and loss.
What People Should do to Stay Safe
Enable all the security features like screen lock/biometric lock and Find my iPhone to keep hackers from accessing the digital wallet, payment apps as well as stealing login credentials or money.
Use a strong password and good cyber hygiene/security practices on all accounts to reduce the risk of hacking. The Identity Theft Resource Center (ITRC) encourages consumers to use a passphrase that is at least 12 characters long.
Beware of phishing attacks because they could lead to a hacked account. Consumers should avoid unsolicited emails or text messages that ask the user to send money directly through a digital wallet or payment app. Criminals may send people an unsolicited payment request through a mobile app, so users should only use a digital wallet or mobile payment app if they initiate the transaction.
Look for red flags like payments you did not make using your payment apps. If someone is victimized, they should report it to the app, change their account password and consider scanning their device with antivirus software.
Contact the ITRC
If anyone has questions about digital wallets, how to use them or how safe they are, they can contact the ITRC. Consumers can reach a live advisor for free by phone (888.400.5530) or live-chat and can get access to the ITRC's latest information. All people have to do is visit www.idtheftcenter.org to get started.
How much information are you putting out there? It's probably too much. To help you stop sharing Too Much Information, sign up for the In the Loop.
Stay informed with alerts, newsletters, and notifications from the Identity Theft Resource Center